Peterborough's economic growth forecast to taper off this year
Greater Peterborough Chamber of Commerce and the Credit Unions of Ontario release 2015 economic outlook for the Peterborough Census Metropolitan Area
Peterborough This Week
Jan 30, 2015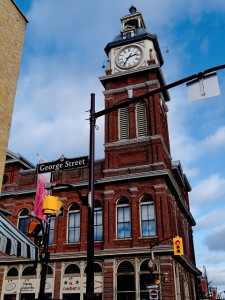 PETERBOROUGH — Economic growth in Peterborough is expected to slow over the next two years, according to a new economic outlook from the Greater Peterborough Chamber of Commerce and the Credit Unions of Ontario.
Economic conditions in Peterborough exhibited surprising strength in 2014 as residential and non-residential investment surged, and total employment grew by 9 per cent. As a result, the unemployment rate dropped slightly in 2014 to 8.3 percent.
Employment growth is forecast to ease considerably following that growth, with forecast gains of 1 per cent in 2015 and 1.8 per cent in 2016.
Growth will be underpinned by a general improvement in economic conditions in the province and higher tourism levels. Unemployment, meanwhile, is expected to decline slightly to 7.8 percent by 2016.
According to the outlook, job creation in the area is forecast to record modest growth over the next two years as non-residential construction activity begins to taper off.
While the investment flows of previous projects in the broader region should continue to benefit the economy, the value of non-residential building permits is expected to decline in 2015 by about 30 per cent before recovering in 2016.
Stronger U.S. demand and a weak Canadian dollar should buoy the region's manufacturing sector while tourism-related industries, such as accommodation and food services, are expected to benefit from increased visits from outside the region.
"The challenges faced by Peterborough businesses in the past number of years have forced some companies to reach into other segments of the economy to fill in space left by traditional clients", says Stuart Harrison, president and CEO of the Greater Peterborough Chamber of Commerce.
Still, some recent developments bode well for Peterborough's future prospects.
The new Nordia call centre, opened in November 2014, has management planning to hire some 400 people in the first 12 to 18 months of its operation.
Minacs, another call-centre operation in the city, will also be hiring another 60 people in the coming months.
In addition, the GE Canada plant has won a tentative contract from TransCanada Corp. to build electric motors for the Calgary-based company's Energy East pipeline project. The contract win for the plant follows a $65-million modernization of the facility over the past five years and is expected to create 250 jobs at the plant and across its local supply chain over a two-year period.
"It's anticipated recent and long-term investments in transportation will have a positive economic impact on the Peterborough area," adds Mr. Harrison.
"The announcement of the construction of the (Highway) 407 to the 35/115 expected to start in the fall and further growth at the Peterborough Airport will continue to open Peterborough to new markets and introduce new markets to Peterborough."
Population growth, which is primarily attributed to net positive flows of people from other parts of the province, is forecast to rise to 0.7 per cent in 2016.
On the housing front, sales in Peterborough are forecast to increase to approximately 1.9 per cent in 2016.
Demographically-driven demand and low interest rates have generated a stable environment for the regional housing market which should help home prices to rise moderately over the forecast horizon.
---
This article is for information purposes only.
Source: http://www.mykawartha.com/news-story/5295649-peterborough-s-economic-growth-forecast-to-taper-off-this-year/

[:TC] [:SC]