Peterborough Real Estate Report
Canadian Real Estate Wealth Magazine
November, 2014
Peterborough House: Median price $261,940 Monthly growth 0.78% Stock on market 1.09%
While the median for Ontario is $339,900 , which means that Peterborough's median price is $261,940 better than average than the rest of the province.
If you're looking at investment properties in Peterborough, then you're most likely to find homes with 3 bedrooms on sale this month.
Across Ontario Peterborough has the 24th most properties on offer with 1190.
Is Peterborough a good investment prospect? It's never a perfect science, but the data we have given us a number of indicators.
The amount of homes for sale in neighbourhood has stayed the same over the last three months – this means that supply and demand economics would mean that the pressure on house prices has also remained constant.
Peterborough Unit: Median price $225,000 Monthly growth -7.74% Stock on market 0.13%
Across the country as a whole, Peterborough is in the Top 40% when all of Canada's suburbs are listed in order of real estate listing prices.
In Nov the median listed house price of $225,000 in Peterborough was a below average compared to the rest of Ontario.
There are 170 neighbourhoods that have more properties on sale than Peterborough at the moment in Ontario which puts the neighbourhood in the top 20% when looking at the number of properties to choose from.
It's never an exact art, but to try to forecast how property is going to appreciate in Peterborough for investors, it's important to look at data like:
Over the last three months in Peterborough, housing stock available seems to be staying constant – this could mean that homes values might not be hugely affected by supply constraints.
House
Median price

$261,940

Monthly growth

0.78 %

Quarterly trend: up slightly


Stock on market

1.09%
Unit

Median price

$225,000

Monthly growth

-7.74 %

Quarterly trend: down slightly


Stock on market

0.13%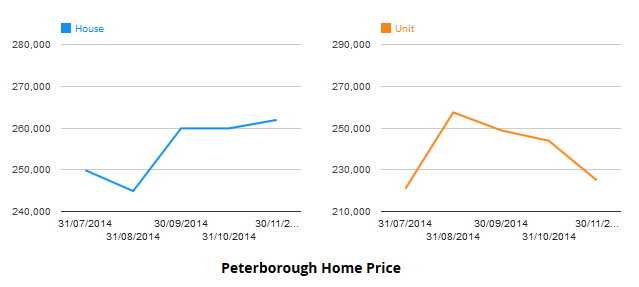 House
| Year | House |
| --- | --- |
| 31/07/2014 | 249900 |
| 31/08/2014 | 244900 |
| 30/09/2014 | 259900 |
| 31/10/2014 | 259900 |
| 30/11/2014 | 261940 |
Unit
| Year | Unit |
| --- | --- |
| 31/07/2014 | 220950 |
| 31/08/2014 | 257497.5 |
| 30/09/2014 | 248900 |
| 31/10/2014 | 243900 |
| 30/11/2014 | 225000 |
Peterborough Home Price
| Beds | Median price (House) | Median price (Unit) |
| --- | --- | --- |
| 1 bedroom | $232,400 |   |
| 2 bedrooms | $261,880 | $204,382 |
| 3 bedrooms | $240,762 |   |
| 4 bedrooms | $285,221 |   |
| 5 bedrooms | $199,900 |   |
| 6 bedrooms | $264,900 |   |
---
This article is for information purposes only.
Source: http://www.canadianrealestatemagazine.ca/