Bayview Village is an exciting and vibrant residential community located in the eastern part of North York. In recent years, the neighbourhood's popularity has skyrocketed due to its culturally diverse community, wide range of affordable housing options situated around swaths of peaceful parkland, and excellent access to transportation. A large part of Bayview Village is made up of quiet residential streets but there is also a lively commercial sector along Sheppard Avenue giving Bayview Village residents the best of both worlds.
Where is Bayview Village?
Bayview Village sits between Bayview Avenue and Leslie Street with Finch Avenue East acting as the northern boundary and Highway 401 acting as the southern boundary. One of the many benefits of living in Bayview Village is being in such close proximity to North York General Hospital, which is located in the southeast corner of the neighbourhood.
Getting around Bayview Village
While Bayview Village feels very much like a small tight-knit suburban community, it also has excellent access to transportation options that make it very easy to explore everything that the city of Toronto has to offer. Bayview Village sits just north of Highway 401, which allows motorists to reach Etobicoke, Scarborough, and Mississauga in under an hour. Just a short drive east of Bayview Village is Highway 404 and the Don Valley Parkway, which can take you into the downtown core in less than half an hour.
Bayview Village also has an amazing public transit system with regular TTC bus routes running along Bayview Avenue and Leslie Street connecting to the Yonge-University-Spadina subway line. There are also several subway stations on Sheppard Avenue that are within walking distance of Bayview Village.
The history of Bayview Village
For most of the 1800s and early 1900s, Bayview Village was a small rural farming community. One of the most influential people from the early years of the neighbourhood was Thomas Clark. Clark and his family lived in the Clark House, which was built in 1885 on 9 Barberry Place where it continues to stand to this day. The Clark house is the only house left from Bayview Village's pioneer days.
In 1954, the modern Bayview Village was planned out by a group of developers and was hailed as  "contemporary living in the countryside at the doorstep of the urban concentration of Metropolitan Toronto". The neighbourhood used curved street patterns that followed the natural contours of the land to highlight the natural beauty of the Don River Valley, which runs right through the center of Bayview Village. In 1963, The Bayview Village Shopping Centre was finished; the upscale shopping mall with over one hundred stores quickly became the commercial hub of the neighbourhood.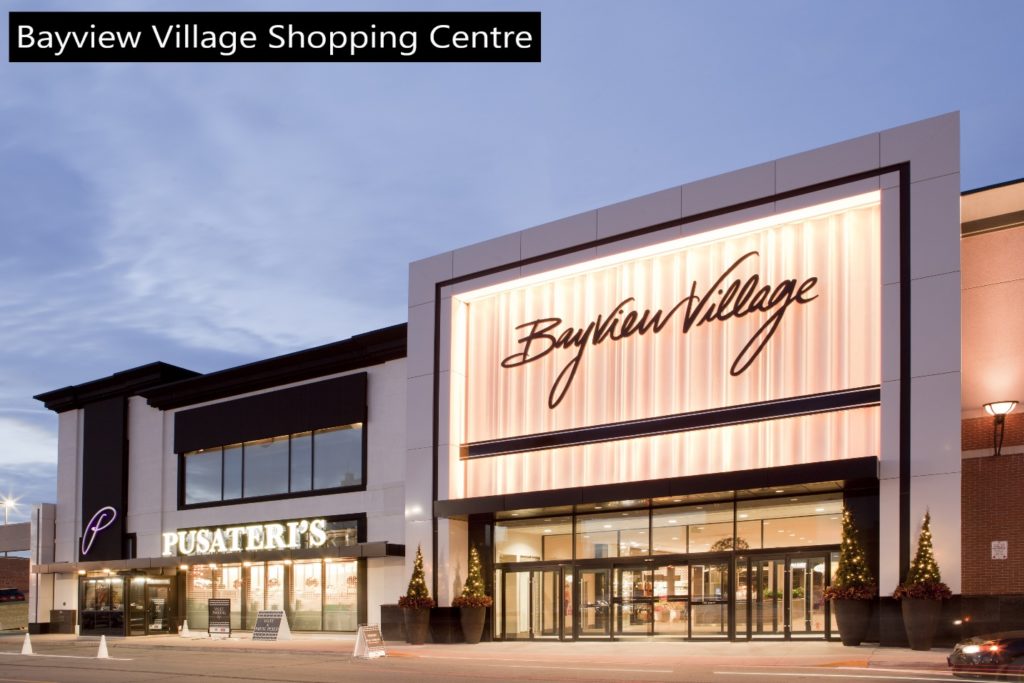 The types of homes in Bayview Village
Most of the residential space north of Sheppard Avenue is made up of houses built between 1954 and 1964 and contains a mix of raised and ranch style bungalows, split-level houses, and Georgian Revival-style homes. These houses are located on long winding picturesque streets decorated with mature birch-cedar, willow, spruce, and pine trees. Many houses are situated on ravine lots with views of the Don River Valley Parklands. There are many affordable condominium townhouse communities along the Westside of Leslie Street with new development happening all the time, such as the Scala Condos on Black Willoway.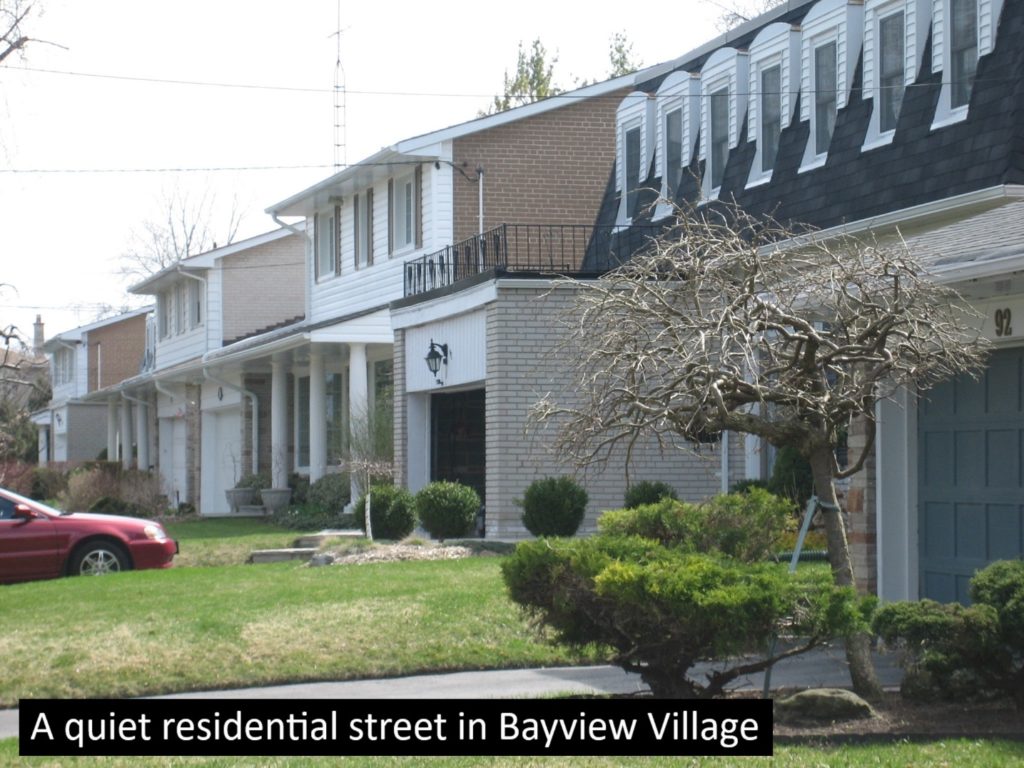 There are also several high-rise apartment buildings mainly along Sheppard Avenue, which add diversity to Bayview Village's housing options making it a popular destination for homeowners and renters alike. Concord Park Place is a 45-acre master planned community that is currently under construction on Sheppard Avenue. The community complex will include several high-rise condos along with a variety of restaurants and services, a community centre, schools, and an 8-acre park.
Making the move to Bayview Village
The popularity of Bayview Village has continued to rise in the past few years due to the neighbourhood's excellent access to transportation and shopping and the wonderful selection of houses. Young families have targeted Bayview Village as a perfect place to move to because of the safety of the community and great school system. If you are an older resident of Bayview Village moving into retirement and are interested in downsizing, now would be a great time to sell your home to capitalize on the competitive housing market. Home staging is vital when you are selling your home to help potential buyers better visualize themselves living in that space. Whether you are staging your home for sale, moving your family into your first home, or just looking to declutter your home, self-storage can be a great solution.
Right now, Storwell Self Storage is offering my clients and exclusive offer of 4 weeks of free self storage at any of their facilities. Storwell has locations in Mississauga, Etobicoke, and one location in Scarborough, which is just a short drive east of Bayview Village. If you need storage to help with your next move, you can call a Storwell representative or visit a facility in person to demo a unit.
Storwell Self Storage
85 Executive Ct, Scarborough, ON M1S 5W9
Phone: 416-534-5555
Parks and Recreation in Bayview Village
Bayview Village has a tremendous amount of greenery and parkland. The Don River runs right through the center of the neighbourhood and the Newtonbrook Creek branches off from the river westward. There are numerous heavily wooded nature trails that follow the flow of the river throughout the entire neighbourhood.
Bayview Village Park is located on Bayview Avenue just north of Foxwarren drive and it has a large children's play structure, a baseball diamond, and three public tennis courts. Just down the street from Bayview Village Park is the North York YMCA, which has a gymnasium, a dance studio, an indoor pool, two squash courts, and hosts several after school programs for the youth of Bayview Village. On Elkhorn Drive you will find Hawksbury Park, which is home of the Bayview Village Tennis Club.
The best schools in Bayview Village
One of the primary reasons why Bayview Village has become an extremely popular neighbourhood for families is the excellent selection of schools in the area. The Toronto District School Board and the Toronto Catholic District School Board both operate several schools in the Bayview Village Area. The main high school in the neighbourhood is Earl Haig Secondary School located on Princess Avenue. Earl Haig received extremely high marks on the Fraser Institute's Annual Report Card for 2020 and was ranked as the 21st best secondary school in all of Ontario out of nearly 800 other schools. It would be an excellent choice for any student entering high school in the Bayview Village area.
Bayview Village also has a great selection of elementary schools, some of the highest rated elementary schools in the area include:
Elkhorn Public School
St. Gabriel Catholic School
St. Matthias Catholic School
Bayview Middle School
Blessed Trinity Catholic School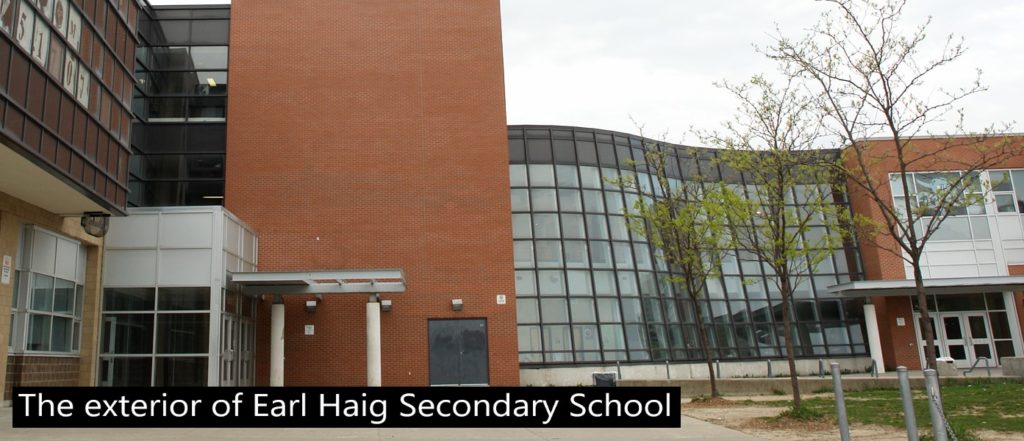 The best restaurants in Bayview Village
Bayview Village's cultural diversity is on full display with its eclectic selection of restaurants representing cuisines from all over the world. On Leslie Street and Nymark Avenue you will find Jerusalem Restaurant, which opened in 1971 and became Toronto's first ever middle eastern restaurant. Right next door to Jerusalem is Bow Thai Restaurant, which is a simple and relaxed eatery serving up bold and modern interpretations of classic Thai dishes. Bayview Village Shopping Centre has a wide range of great dining options, but a particular standout is Goa Indian Farm Kitchen, which is serving up food inspired by India's coast in an elegant, refined, and intimate setting. Also, on Sheppard Avenue is Parcheggio, an Italian restaurant with a race car inspired décor and a spacious outdoor dining area. For Dessert, head over to Superego Sun Cake Boutique and try their designer cakes and pastries.