Former YMCA building in Peterborough sold for $500,000
Not unusual for developers to aim to pay as little as possible for retrofit projects: realtor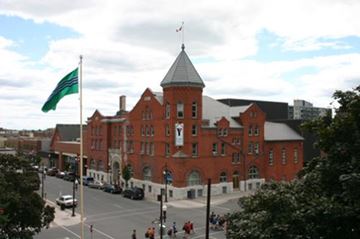 Peterborough This Week, Sarah Frank
November 7, 2014
PETERBOROUGH — Toronto area developers paid roughly one-third of the original asking price for the former YMCA building on George Street, MyKawartha.com has learned.
Although its former owner, Dr. Jenny Ingram, had the architectural landmark listed for $1,475,000, sources says Atria, a development company, were able to snag the building for $500,000. The sale went through sometime inearly October. Now, the company is making plans to spend between $25 and $30 million  to transform the building into roughly 140 high-end residential units with ground-floor residential space.
While the sale price is considerable more than the $1 Dr. Jenny Ingram bought the building for in 2007, she previously told MyKawartha.com it's cost a considerable amount to keep maintain the building.
Dr. Ingram wasn't available for comment on the sale of the building.
Ken Barrick, a Peterborough real estate broker and president of the Peterborough and the Kawarthas Association of Realtors, says developers usually look to get buildings as cheaply as possible, especially when there's an expensive retrofit required.
"Developers, they don't get emotional," he says. "It comes down to numbers."
He adds it would have been difficult to predict what the building would sell for, or any other buildings with similar heritage features for that matter.
"It's an open market," he says. "If you have a willing buyer and a willing seller, that's what happens."
Atria is planning to get started on construction in the spring and wrap up by the fall of 2016.
---
This article is for information purposes only.
Source: http://www.mykawartha.com/news-story/4963718-former-ymca-building-in-peterborough-sold-for-500-000/